Last Updated on September 28, 2020 by admin
 Affiliate Disclosure: This post contains affiliate links, which means we will make a commission at no extra cost to you should you click through and make a purchase.
---
This article is written as we started implementing Tailwind for Instagram on our business and does not include all its features. The Tailwind team does an excellent job of coming out with contents (both text-based as well video) that explain the features on their website and blog.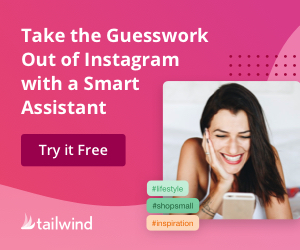 ---
Tailwind being a web based app, you can access functionalities of this social sharing tool best on a web browser while on desktop/laptop and preferably on Chrome browser. Also are iOS and Android apps that are effective when on move.
For this article, our focus is Tailwind for Instagram that just got a new-and-improved UX. We will be using both Tailwind app (Android) and the core Web version. For creating new posts while on move, the Android version is handy.
Screenshots used in this article are from both Web version and Android app. They may not be sequential. Screenshots from Android app source mentioned in caption. Few screenshots are from older version but since the aim is to highlight functionality, that should not affect the way Tailwind deployed.
(

1) Publisher
The above Published list is not just historic data but an opportunity to further capitalise on the existing posts with Smart.bio link and Schedule it under Action. You accomplish this by rescheduling while making the most of hashtags.
Now for this article, we focus on how to publish new Instagram posts through Tailwind and how features like hashtags generator, CTA, access to photo stock library Unsplash, Publisher Browser Extension give competitive advantage.
(i of iii) Ways to create new posts:  Upload Photos/Videos
In other words, uploaded images for auto-post cropped automatically if auto-cropping enabled (auto-cropping enabled by default). Or you can crop area of choice manually before pressing Auto-Post button that adds posts to your Instagram feeds immediately.
Refer this: How can I crop or resize my Posts before they are published to Instagram?
Under Publisher, Your Schedule is where automation and artificial intelligence capability of Tailwind comes into visibility. The default timings and number of times that Tailwind will automatically share the posts are optmized. One can modify them as well.

(ii of iii) Ways to create new posts: Free Stock Photos
(iii of iii) Ways to create new posts:  Tailwind Publisher Extension
(2) Insights
(3) Smart.bio
---
We believe it is okay to start with the trial offer (credit card details not needed) and refer training contents while applying Tailwind for one's business. Since the trial offer instead of being time bound is based on the number of scheduled posts (30), you can take time learning while proceeding at your own pace.

What you or your business will benefit with Tailwind is automation as evident from Tailwind slogan:
"Tailwind is the social media scheduling tool that gets real results in less time."
By spending few minutes per week, your posts will be posted as per a predetermined schedule. There

are also smart tools within Tailwind to suggest relevant keywords, images, videos.